INCREASE TURNOVER AND MAKE YOUR ORGANIZATION MORE SUSTAINABLE WITH FREE CHARGING STATIONS
INCREASE TURNOVER AND MAKE YOUR ORGANIZATION MORE SUSTAINABLE WITH FREE CHARGING STATIONS
Pluq finances, installs and manages electric vehicle charging points in private car parks. These come at no cost to your organization, but bring you a great deal: satisfied visitors, a green image, and no stress – as well as a share of the profits.
Charging is the new way to refuel. However, you rarely see a road sign indicating where you can top up or recharge your EV battery. We are changing this. The future has its own sign!
Excited? our simple procedure comes standard!
First, we calculate how many charging stations your company needs.
We connect the stations to your organization's electricity grid.
We monitor usage so the network can handle power demand at all times.
We scale up at no cost if you need more charging stations later. 
DIFFERENT FLAVOURS OF PLUQ
Are you convinced of the advantages of free charging stations? Then it's time to decide which type of charger you want at your location. Pluq offers three flavours:
Pluq guarantees high quality. Alphen and EcoTap supply the poles.
WHITE LABEL CHARGING STATION
If you see opportunities for a joint venture, or if you want to decorate the charging station in your company house style, the white label charging post is a good choice. Sportstroom and Dierenpark Amersfoort are good examples. The posts remain our property.
THE CHARITY CHARGING STATION
Which charity do you want to support? You can support four organisations through our charity charging stations: KWF (Dutch Cancer Society), Ronald McDonald Children's Fund, Kika (Children Cancer-free Foundation) and Natuurmonumenten (Society for Preservation of Nature Monuments in the Netherlands). Choose which one you'd like to feature on your site. For each kWh charged, two eurocents go to the charity of your choice.
WHY IS PLUQ THE BEST SOLUTION FOR YOU?
WHAT CUSTOMERS ARE SAYING...
"Our country estate Kapellerput now offers 10 e-charging points for electric cars. Guests are extremely happy with this extra service. The poles are used all the time. It's great thing that they are powered by 100% Dutch wind energy. That makes refuelling completely sustainable."
Rik Hüsken, Hotel Kapellerput, Heeze
"We thought about buying and installing charging stations ourselves. But the earnings model turned out to be very complicated. It would take longer to recoup the costs than we had assumed. And if we wanted to expand, we'd have to invest again. Now, all costs and risks are borne by Pluq. Our money is spent to the animals and the park. A very smart choice. We are completely unburdened."
Clemont Struik, Dierenpark Amersfoort
"The network operator said there wouldn't be sufficient capacity to power a charging station. Pluq has proven that there's no such thing as 'can't'. By slowing down charging at busy times, the network doesn't get overloaded. People can now drive their EVs to Holwerd and take the ferry to Ameland. When they return, their battery is charged."
Ger van Langen, Wagenborg Passagiersdiensten, Ameland
FREQUENTLY ASKED QUESTIONS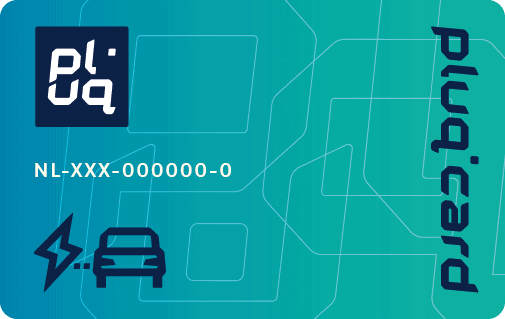 THE PLUQ-CARD, EXCLUSIVELY FOR YOU
As an entrepreneur, school administrator or member of the board of directors, you'd rather not pay our normal rates to charge up. With the Pluq-card, you can charge at a lower rate. You can also apply for a card for employees. Please note: the card is personalised and not transferable. Check it out!